I've heard the term "crack dip" used on various cooking blogs. I think it usually refers to the famous Buffalo Chicken Dip everyone loves. For me, almost any hot, cheesy, tangy dip is crack dip. This cheesy spinach and artichoke dip is no exception.
This classic dip has become a staple at holiday gatherings in my family. It is requested mercilessly by my younger brother every time he comes home and devoured completely by crowds whenever I serve it. It's so simple and easy to make, but so delicious too. Seriously - I feel like I should issue a warning with this dip recipe. ***BETCHA CAN'T EAT JUST ONE***.
If you use low-fat cheese and light mayonnaise you can at least cut some calories. And if you're really trying to watch the points, you could eat it with celery or carrot sticks. But since we only have it a few times a year, I usually make it with full-fat cheese (I do use light mayo though since it's the only mayo I ever buy) and serve it with baked sourdough crostini. Thankfully the holidays only come once a year!
Cheesy Spinach & Artichoke Dip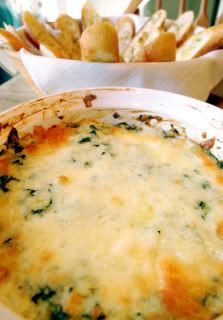 1 10oz package of frozen chopped spinach, thawed and drained of excess water
1 8 oz can of artichoke hearts, chopped or cut into quarters
1 cup mayonnaise
1 10oz block of Monterrey jack cheese, shredded
1/2 tablespoon minced garlic
juice of half a lemon
1/4 cup Parmesan cheese, grated
Preheat your oven to 350 degrees.
In a large bowl, mix all your ingredients together except for about 1/4 cup of your shredded Monterrey jack cheese. Set that aside for topping your dip after you place it in a baking dish.
Once your ingredients are well combined, transfer them to a baking dish. Sprinkle the remaining 1/4 cup of shredded cheese on the top and place in the oven, uncovered, to bake for about 30-35 minutes. You'll know it's done when the cheese starts to brown on the top and the dip is bubbling up on the sides.
Remove, let cool for about 5 minutes and serve with crackers, crostini or crudite. Be careful because this dip really holds the heat at first, so make sure you and your guests blow on it to avoid burnt tongues.
Enjoy!