For this week's Barefoot Bloggers, the choice was Coq Au Vin, which to me is basically a chicken stew of sorts made with red wine. I've heard tales of coq au vin's that take all day to make etc. It kind of takes on the same lore as Italian marinara sauces that simmer for hours or chicken cacciatore recipes, which boast better flavor the longer it cooks. Ina's version of Coq Au Vin is pretty simple to prepare though and can be done fairly quickly.
I did make one major substitution. Instead of using chicken parts, I used a pork tenderloin. That day in the grocery store I found a glorious pork tenderloin for only $5!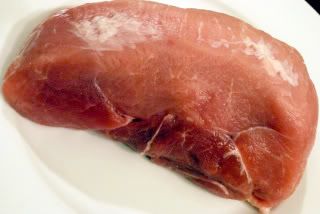 It was cheaper than chicken breasts. I decided to cut it into four equal pieces and try it out in my coq au vin. It worked out fine. This recipe, even though it had been scaled down for three people, still made more than enough to feed four people. We had a lot of leftovers, most of which ended up getting trashed since my husband and I are leftover snobs. Oh well. I just found it too heavy to eat for lunch and I'm not really one to repeat meals much twice in the same week. Like I said, leftover snobs. Hey - variety is the spice of life right? Life's too short for leftovers. Don't hate me...please!
Overall though a very good dish indeed. I did find that I needed to add some flour at the end to thicken up the liquid a bit - I found it kind of thin. I served my coq au vin with red-skin mashed potatoes, which made for a nice hearty meal.
Coq Au Vin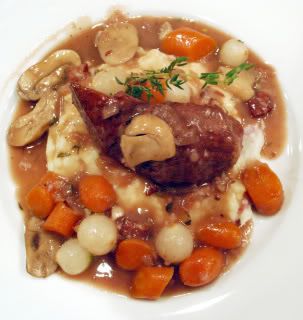 2 tablespoons good olive oil
4 ounces good bacon or pancetta, diced
1 (3 to 4-pound) chicken, cut in 8ths
Kosher salt and freshly ground black pepper
1/2 pound carrots, cut diagonally in 1-inch pieces
1 yellow onion, sliced
1 teaspoon chopped garlic
1/4 cup Cognac or good brandy
1/2 bottle (375 ml) good dry red wine such as Burgundy
1 cup good chicken stock, preferably homemade
10 fresh thyme sprigs
2 tablespoons unsalted butter, at room temperature, divided
1 1/2 tablespoons all-purpose flour
1/2 pound frozen small whole onions
1/2 pound cremini mushrooms, stems removed and thickly sliced
Preheat the oven to 250 degrees F.
Heat the olive oil in a large Dutch oven.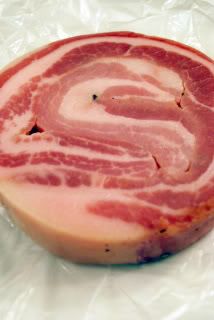 Add the diced pancetta and cook over medium heat for 8 to 10 minutes, until lightly browned.
Remove the bacon to a plate with a slotted spoon.
Meanwhile, lay the chicken out on paper towels and pat dry. Liberally sprinkle the chicken on both sides with salt and pepper.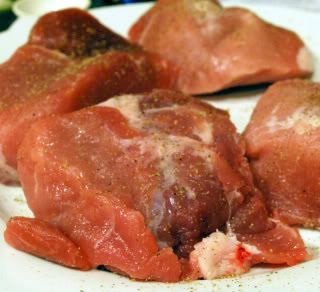 When the bacon is removed, brown the chicken pieces in batches in a single layer for about 5 minutes, turning to brown evenly.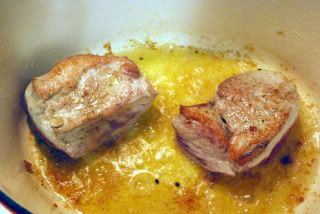 Remove the chicken to the plate with the bacon and continue to brown until all the chicken is done. Set aside.
Add the carrots, onions, 2 teaspoons salt, and 1 teaspoon pepper to the pan and cook over medium heat for 10 to 12 minutes, stirring occasionally, until the onions are lightly browned.
Add the garlic and cook for 1 more minute.
Add the Cognac and put the bacon, chicken, and any juices that collected on the plate into the pot.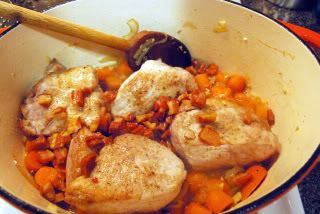 Add the wine, chicken stock, and thyme and bring to a simmer.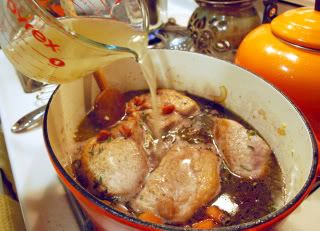 Cover the pot with a tight fitting lid and place in the oven for 30 to 40 minutes, until the chicken is just not pink. Remove from the oven and place on top of the stove.
Mash 1 tablespoon of butter and the flour together and stir into the stew. Add the frozen onions. In a medium saute pan, add the remaining 1 tablespoon of butter and cook the mushrooms over medium-low heat for 5 to 10 minutes, until browned.
Add to the stew. Bring the stew to a simmer and cook for another 10 minutes.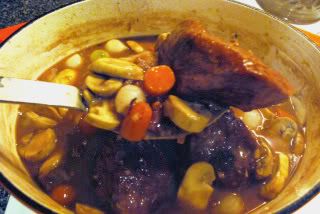 Season to taste. Serve hot over mashed potatoes.