There's really no set recipe here, more like a method. This could be called Deconstructed Grilled Eggplant Parmigiana or Grilled Eggplant, Tomato and Mozzarella stacks. There are so many options! Basically, here are the steps and ingredients:
Grilled Eggplant Napoleons
3 small eggplants
2 tomatoes
12 oz fresh mozzarella, sliced into round discs
a handful of fresh basil, shredded
3/4 cup of
homemade (or storebought works too I guess) pesto
olive oil
salt and pepper
I sliced three Italian eggplants into round discs. Drizzled them with olive oil till they were evenly coated and then seasoned with salt and pepper. I grilled the discs until they were tender. Then removed them from the grill and allowed them to cool slightly.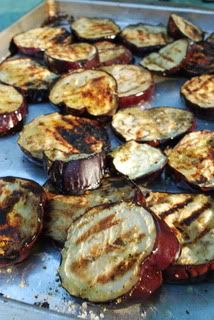 Next I sliced up two tomatoes and started making my stacks in a foil pan - or any baking dish would work. Piece of eggplant first, then tomato, then mozzarella, then eggplant again and then topped with mozzarella.
Finally I put the pan into the broiler to melt the cheese and give some warmth to the vegetables. When I removed them from the oven I sprinkled the shredded basil over top and then dolloped pesto sauce down as well. I served them with the extra pesto.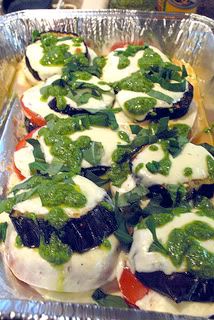 So summery and delicious! The basil came from my own little potted herb garden and it was so fragrant and fresh. If only I had room to grow eggplants too.