If you've never used a cedar plank before when grilling then this summer is the time to try it. It's so easy and it imparts such rich depth of flavor to grilled meat and fish. You do have to do some planning ahead for cedar plank grilling because you must soak the board in water for about 2 to 4 hours beforehand. Soaking the board helps it from burning up immediately when you put it over a hot fiery grill. I've never soaked mine in anything but water, mainly because I like the cedar taste and don't want it to compete with much else. But I've heard people soak their planks in wine, cider, vinegar and other concoctions. I keep it simple and stick to water.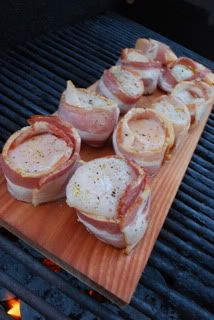 Now while I have done salmon on the cedar plank countless times, I saw this idea for scallops at
Proud Italian Cook
and couldn't resist trying them out. She wrapped her scallops in prosciutto but I had some leftover raw bacon from breakfast that I didn't use so I wrapped mine the classic way, with bacon strips. Between the smoky bacon and the cedar plank these were out of this world! I'll definitely be trying them again. I decided to top them off with a fresh basil vinaigrette to add a green, citrusy bite and lighten up the smokiness a bit. It was the perfect combination. Enjoy!
Cedar Plank Bacon-Wrapped Scallops with Basil Vinaigrette
Source: Me, Proud Italian Cook and Food & Wine Magazine for the Vinaigrette
1 untreated cedar plank (you can buy these in the grocery store and I've also found them in Bed, Bath and Beyond)
10 scallops
10 strips of bacon
olive oil for drizzling
cooking spray
salt and pepper
For the vinaigrette: (As seen in Food & Wine magazine's June issue)
1 small garlic clove
1 cup packed basil leaves
1/4 cup extra virgin olive oil
1 1/2 tablespoons champagne vinegar
pinch of crushed red pepper
salt and pepper
For the scallops:
Soak the cedar plank ahead of time in a bucket of water for two to four hours. You'll need to weight it down with a brick or a heavy pot or pan because it will float to the top.
Meanwhile, rinse your scallops. Wrap each scallop in a strip of bacon. Drizzle with olive oil and season with salt and pepper.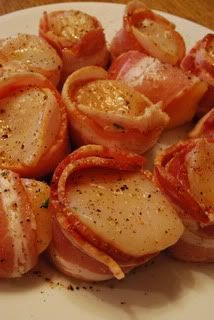 Heat your grill. Once hot, place your plank on the grill grates, spray the plank with a little cooking spray and then line up your scallops on top.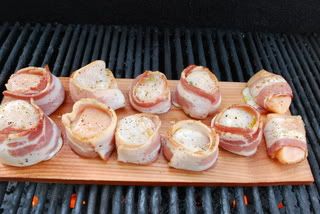 They will take much longer to cook on the cedar plank than they would directly over the flame. So give it about 25 minutes or so. You'll see the scallops change color and the bacon start to crisp up of course.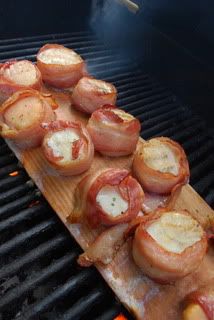 Once they appear done, remove them from the grill and serve with a drizzle of the basil vinaigrette.
For the vinaigrette:
In a food processor pulse the basil and garlic until finely chopped. Add in the oil, vinegar and pepper. Season with salt and pepper and serve.