Steak and potatoes. Quite possibly the most perfect meal. Nuff said. This was a very tasty marinade for the steak. I wish I had marinaded it a bit longer to break down the steak a bit more, but it was still good. Flank steak can be a little tough sometimes, so a long stay in a nice marinade can help ease that burden. I'm submitting this to
Joelen's Culinary Adventures Bobby Flay Recipes Contest.
I kind of threw together what I knew for the potatoes. I've been growing chives in a pot on my patio and they are thriving! I really wanted to find a way to use them. So I came up with this idea - which I'm sure has been done before a million other ways. I'm not claiming to have invented the wheel here. Just giving my take. So with that said, here's the recipes.
Red Wine-Rosemary Grilled Flank Steak
source: Bobby Flay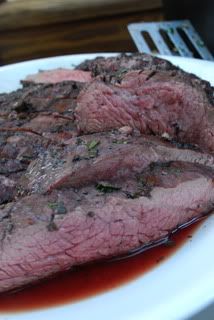 3 cups dry red wine
4 small sprigs fresh rosemary
4 sprigs fresh thyme
2 bay leaves
1 small onion, coarsely chopped
4 cloves garlic, coarsely chopped
3 tablespoons olive oil
1 (2 pound) flank steak
Salt and freshly ground black pepper
Directions
To prepare the steak: Place the wine, rosemary, thyme, bay leaves, onion, garlic and olive oil in a large shallow baking dish and stir to combine. Add the steak and turn to coat both sides. Cover and refrigerate at least 4 hours or overnight. Heat the grill, remove the meat from the marinade, season both sides with salt and pepper to taste and grill 6 to 7 minutes on each side (this was perfect timing for medium rare to medium). Let sit 5 minutes and slice against the grain.
Roasted Dijon Chive Potatoes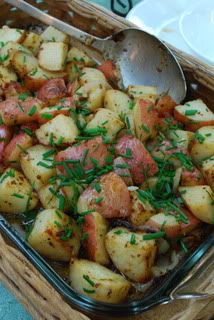 6 red potatoes
1 medium sized vidalia or sweet onion
2 tablespoons dijon mustard
1 tablespoon of whole grain mustard
juice of a small lemon
1/2 cup olive oil
salt and pepper to taste
a small bunch of fresh chives, chopped
Preheat oven to 400 degrees. Cut up your potatoes into 1 inch cubes. Slice your onion into thin rings. Place in a baking dish. In a small bowl whisk together the mustards, lemon juice and olive oil to emulsify. Season with salt and pepper to taste. Add more olive oil if needed to balance out the lemon. Pour the vinaigrette over the potatoes and onions and toss to coat. Roast for 45 minutes, or until potatoes are tender (may take longer depending on your oven). Remove and top with your chopped chives and serve.