I don't know why but I just never get these posts up on the actual "due date". I think it's because I don't have much time for cooking during the week. I usually cook one or two days during the week. The rest of the nights, we go out or I make some that isn't blogworthy. Also, Ina's dishes make nearly twice the serving size that she claims so I try to wait till the weekend so the whole family can partake in the new dish. It's more fun that way. So that's why this is late, as usual. But better late than never! And with this dish, that was definitely the case.
You can go here to check out what other bloggers thought of this dish,
Barefoot Bloggers
.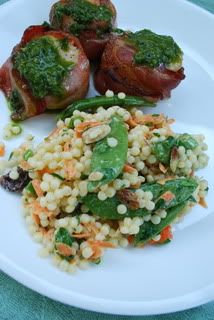 It was so tasty. The curry flavor wasn't overwhelming at all, which was a good thing since my husband is what I like to call, curry-sensitive. But we'll get to that later. I made a few ommissions, additions (in italics), and substitutions which I've outlined below. The biggest addition I did was a couple cups of sugar snap peas. It gave the salad a nice crunch and added some green color. Enjoy!
Curried Couscous
1 1/2 cups couscous (I used the grande couscous because I had some)
1 tablespoon unsalted butter
1 1/2 cups boiling water
1/4 cup plain yogurt
1/4 cup good olive oil
1 teaspoon white wine vinegar
1 teaspoon curry powder
(juice of half a lemon)
1/4 teaspoon ground turmeric (omitted)
1 1/2 teaspoons kosher salt (Only used 1/2 teaspoon and it was MORE than enough!!)
1 teaspoon freshly ground black pepper
1/2 cup small-diced carrots
1/2 cup minced fresh flat-leaf parsley
1/2 cup dried currants or raisins (used dried cherries - awesome!)
1/4 cup blanched, sliced almonds
2 scallions, thinly sliced (white and green parts)
1/4 cup small-diced red onion (omitted - I don't like raw onion)
(2 cups lightly steamed sugar snap peas)
Directions
Place the couscous in a medium bowl. Melt the butter in the boiling water and pour over the couscous. Cover tightly and allow the couscous to soak for 5 minutes. Fluff with a fork.
Whisk together the yogurt, olive oil, vinegar, curry, turmeric, salt, and pepper. Pour over the fluffed couscous, and mix well with a fork. Add the carrots, parsley, currants, almonds, scallions, and red onions, mix well, and season to taste. Serve at room temperature.