Sorry for the delay in posts - to anyone who is reading this! I just got back from a week vacation in San Juan, Puerto Rico. It's so beautiful there! We had some great food, saw some gorgeous scenery, did some snorkeling, laid on the beach and drank one too many pina coladas! But it was fabulous. Go to Puerto Rico - it's easy to get to, you don't need a passport and they have some of the most beautiful beaches in the world. Like seriously, they have the 1st and 3rd ranked "Most Beautiful Beaches" in the world. I'll be sharing pics and reviews soon. Today's post however, is about the delicious flatbread pizza I made the week before we left.
I got the idea for mushroom pesto pizza from Bobby Flay and then added my own twist. Here's what I did...make this! It was so good and filling. And you could obviously use your favorite ready made pizza crust or dough. Whatever floats your boat!
Enjoy!
Mushroom Pesto Flatbread Pizza
Source: Bobby Flay and me
For the Pesto:
1 container of baby bella mushroom caps
1 onion
fresh thyme (about 8 sprigs)
teaspoon of minced garlic
handful of dried porcini mushrooms, reconstituted in warm water, drained and rinsed thoroughly (Make sure to rinse these well as they can harbor a lot of grit)
1/4 cup of toasted pine nuts (I toast them in a small pan over the stove on medium heat. Keep an eye on them cause they burn easily!)
Olive oil (about 1/2 cup)
salt and pepper to taste
Fire up your grill. Spray it with cooking spray and lay the baby bella mushroom caps on the grill. Cook until softened and remove. At the same time you can grill your onions for the pizza topping - just slice one whole onion in rings, rub with olive oil and season with salt and pepper and place them on the grill. Cook until softened and slightly charred and remove. Set aside while you make the pesto.
Once your mushrooms have grilled up nicely, remove them and let them cool.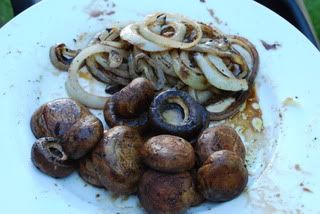 Meanwhile, in a food processor combine all your other ingredients except the olive oil. Once the mushroom caps are cool throw them in as well.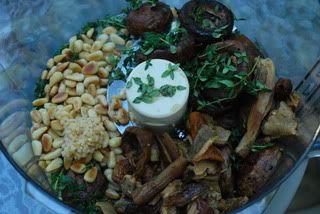 Pulse gently in the food processor and then while the processor is running slowly drizzle in the olive oil to form a paste. Once you have it to the desired consistency, thick but spreadable - don't add too much oil or it gets runny - remove and set aside in a bowl.
For the pizza:
Mushroom pesto
1 grilled onion (which you prepared above)
1 cup of grated Fosiago cheese (I found this in the grocery store and I'm in love! It's a combo of fontina and asiago so it's creamy and melty with a sharp bite. Delish!)
2 sausage links, removed from casing (I used two chicken sausages)
2 flatbreads or 1 pizza crust
Preheat oven to 375. In a small skillet, brown up your sausage meat. Once done, drain and set aside. If you choose to, you can grill your pizza crust or flatbread to impart a smoky flavor. That's what I did. I just grilled them till crisp, then topping them with the pesto first.
Then laid on the grilled onion rings. Then sprinkled on the sausage crumbles. And finally topped it with a layer of the cheese.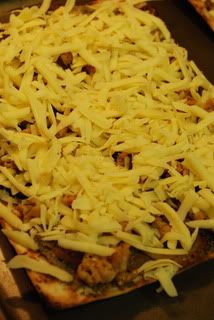 I then threw it in the oven for about 8 to 10 minutes to melt the cheese. Serve and enjoy!
*If you don't want to go through the extra step of grilling your flatbread or pizza crust, then you can just cook it the entire way in the oven. Probably give it about 15 to 20 minutes in the oven, or until desired doneness.*