About a week ago, we returned from a week long vacation in Puerto Rico. It was so much fun! We had originally booked to go to Cabo San Lucas but when the swine flu hit we decided to change our plans at the last minute. After many headaches of dealing with phone call after meaningless phone call to Travelocity - never book through them by the way - we finally changed our trip to San Juan, Puerto Rico.
We stayed at the Ritz Carlton hotel - I got a GREAT deal on rooms there through hotels.com. Very affordable for the Ritz! It was a beautiful hotel, top-notch service, clean beach and comfy beds. Here are some shots of the hotel and beach:
The lobby - where we spent several late evenings at the bar after returning from dinner in Old San Juan:
The view of the back and the pool:
The view of the hotel from the pool: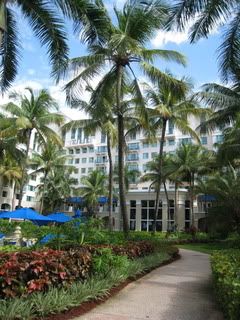 The pool and beach bar - they had the best nachos and mojitos! And the Puerto Rican Legacy was one of the best and strongest rum fruit drinks we had as well: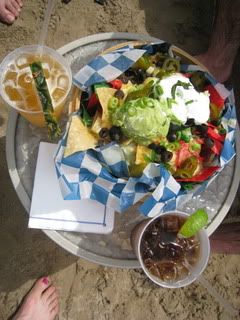 Finally - the beach!! It was pretty windy the day we got there, as you can see, but still very warm. Love the palm trees swaying: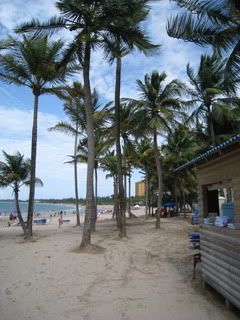 Stay tuned! Tomorrow I'll update with pics of gorgeous Old San Juan along with some food photos since this is after all, a food blog. Enjoy!