This dish was inspired by two blogs I read frequently -
My Italian Grandmother
and
Good Things Catered
. I've made a lemon cream sauce for linguine countless times before. It's a staple I picked up in my early days of cooking. But I liked the idea of adding leeks, which I saw on
Good Things Catered
. I also added one bag of cooked baby spinach leaves as well to the sauce.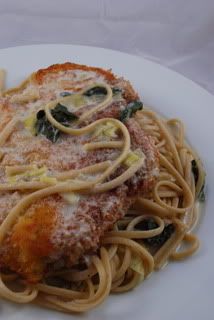 I served it with an old favorite that I haven't had in a while and saw recently on
My Italian Grandmother
, which is Chicken Milanese. It's basically pan-fried, breaded chicken cutlets. Here's the recipe for both! Enjoy!
Linguine with Lemon Leek Cream Sauce and Chicken Milanese
For the cream sauce:
1 leek, chopped
2 garlic cloves, minced
2 tablespoons butter
1 tablespoon olive oil
1 1/2 cups cream
1 1/2 cups chicken stock
juice of 1/2 lemon (or if you want it really lemony use the whole lemon)
1 bag of baby spinach
1 handful of parmesan cheese
1 box of linguine
In a saucepan, add your chopped leeks, butter, garlic and olive oil. Cook until the leeks are tender, about 15 minutes. Add in your cream, chicken stock and lemon juice. Whisk together and allow it to come to a boil then reduce heat. Simmer until it thickens a bit. Add in the baby spinach and allow it to wilt into the sauce. Add in your parmesan cheese and pour it over a bowl of cooked linguine. Serve with extra parmesan.
Chicken Milanese
2 chicken breasts
1 cup flour, seasoned with salt and pepper
2 cups panko breadcrumbs mixed with a 1/2 cup of parmesan cheese, grated
2 eggs, whisked
1 teaspoon dried oregano
olive oil for frying
In a fry pan, pour in olive oil till it's about 1/4 of the way up the pan. I don't use as much olive oil as most recipes call for but if you really want more of a deep fry then by all means use more. Heat over medium heat.
Place your chicken breasts between two pieces of saran wrap and pound till thin. In three separate bowls arrange your breading ingredients - flour in one bowl, eggs in another bowl whisked with the tablespoon of oregano, breadcrumbs in a third bowl. Dip your chicken cutlets, first in flour, then in egg and then in the breadcrumbs. Once well coated they are ready for the pan.
Cook until browned on both sides and crunchy and remove. Takes about 10 to 15 minutes total. Lower the heat if they seem to be burning.
Remove and serve.