It may sound surprising that we found one of the best Italian restaurants I've ever been to in Puerto Rico. Who would have imagined that? But it's true. Il Perugino is not only a charming little place, but they are turning out some of the freshest and most delicious Italian food I've had in a long time. I've been to Italy twice and this reminded me of food that I ate in many restaurants there. From the outside, the restaurant beckons the eyes with it's bright yellow stucco facade and dark wooden doors and shutters.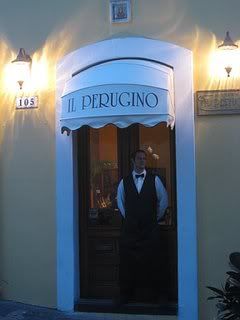 When you walk inside the quaint feeling continues. The walls are painted in the warm colors of Tuscany, sunset orange, sunflower yellow. There is a muted mural of the Italian countryside on one wall. Arched doorways and Italian accents like small Roman statues make you feel like you're in a courtyard, not a restaurant.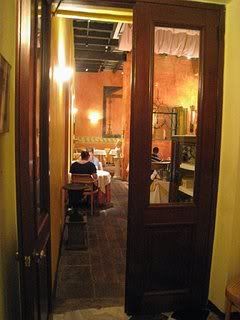 Il Perugino features their own wine cave which is situated down a makeshift well in the middle of the main dining room. Waiters are decked out in vests and crisp white shirts. If you're looking for a special occasion restaurant while in Old San Juan, Il Perugino fits the bill.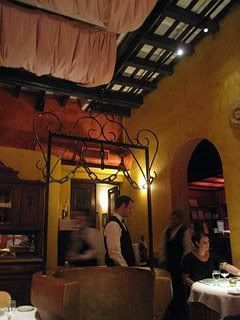 We started out with some great appetizers. Creamy tomato soup; a salad of freshly made goat cheese and arugula topped with basil pesto and chopped toasted walnuts; the Caprese salad - made from ripe red tomatoes and buttery mozzarella cheese; and we shared a plate of their homemade ravioli of the day - asparagus and ricotta. I never thought of using asparagus in ravioli filling but it was so good. I'm definitely going to have to try to recreate this one at home.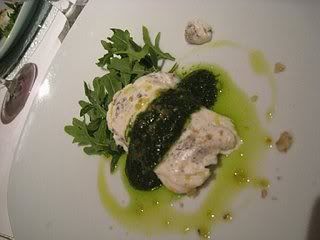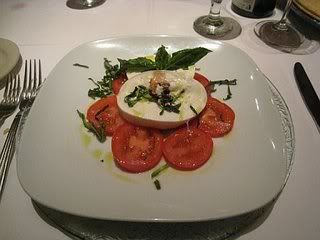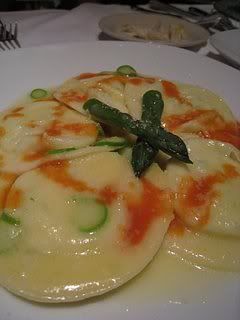 For dinner we all opted for the fresh fish specials, which included poached halibut and seared rare tuna. All were cooked perfectly! The sauce on the halibut was so light and flavorful. I wish I could have identified exactly what they used, but unfortunately I couldn't. I'd love to recreate it if I could. All entrees, which were huge by the way, were served with crisp green beans and a picture perfect serving of mashed potatoes. The potatoes were so smooth and fluffy! I tried to avoid them but couldn't hold myself back. So good!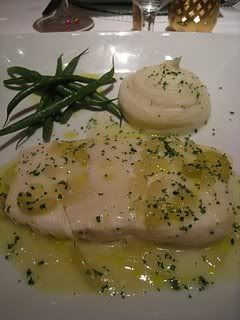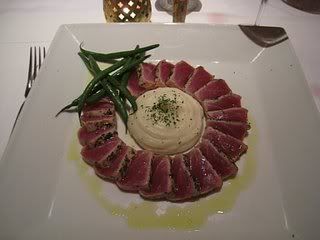 While Il Perugino was definitely the most expensive meal we had in Old San Juan, it was also by far the best. You could easily go here and share one dish between two people to cut down the costs. But our group had spent the day tramping through the Puerto Rican rainforest and then frolicking on the beach so we were HUNGRY! And we downed two bottles of wine. Hey - what else is vacation for!
Here's a pic of our group - my husband and I on the left and my brother and his girlfriend on the right. Two of the best traveling companions I know!