For our 1st wedding anniversary we went down to Ocean City, MD for the weekend and had dinner at Fager's Island. They offer a beautiful view of the Chesapeake Bay where you can watch the sun set over the water while you eat. It was a bit breezy the evening of our anniversary so we asked for a table inside by the windows so we could get a good view of the sunset. Here's a pic of the view from our table at sunset time: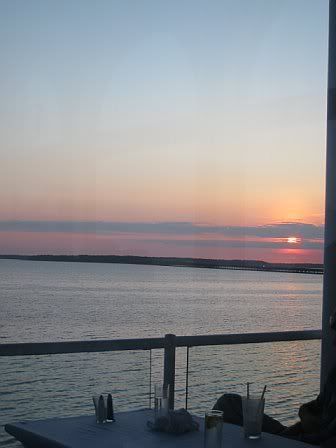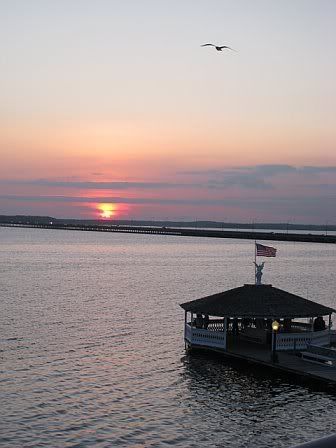 Fager's has two dining areas. Their fine dining restaurant, which is where we ate, and their casual bar and restaurant, which is fun for an inexpensive dinner by the water. The fine dining restaurant boasts a Mediterranean-style theme with white stucco walls, Greek-like columns on the balcony and simple dark wooden chairs. White paper lanterns hang from the ceiling as well. Here's a pic of me with the restaurant in the background to give you an idea: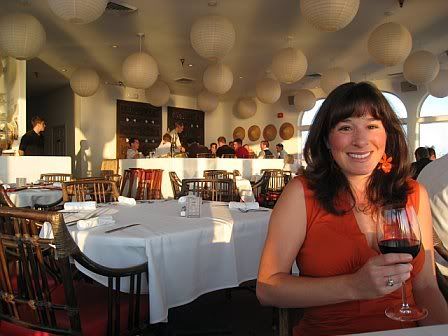 We each opted for an appetizer and main dish. I got the strawberry spinach salad with peppered goat cheese. It was so good! I love goat cheese and the combination of this rich, dense cheese with light, fruity strawberries is great. The cracked pepper bits on the goat cheese gave it a nice spice.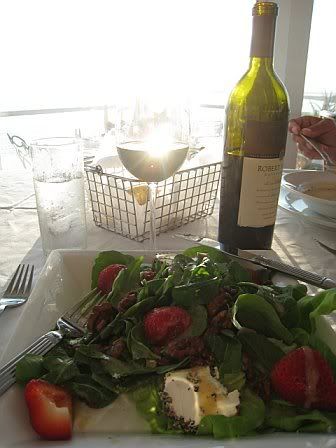 My husband started with his favorite, cream of crab soup. If there is a cream soup or a bisque on a menu, my husband will sniff it out. He loves cream of crab soup especially and really enjoyed Fager's version.
For dinner I went with their special which was three softshell crabs with a lemon champagne sauce served with vegetables and a baked potato. The crabs were so good! I only started to appreciate softshell crabs a few years ago. Before that, eating the whole crab, shell, guts and all, really kind of grossed me out. But when they are cooked well there really is nothing better. The legs are crunchy crispy, the main shell tender and juicy and the crab meat sweet. Fager's lightly breaded and pan sauteed the crabs in butter, which is really all they need. Too much butter or too much breading ruins a nice soft shell crab. On top of that the crabs were the perfect size - not too big so they didn't have a lot of entrails. Despite their small size, I only finished two of the three and didn't even get to tackle the baked potato. I think I had too much bread beforehand! Oh well. What I did eat I loved.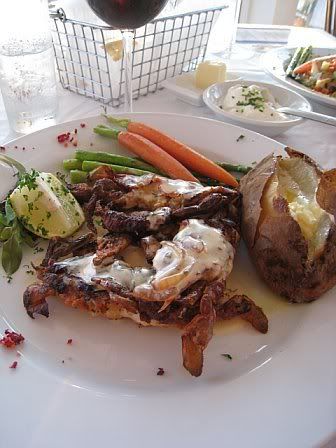 My husband ordered the mahi mahi fish special topped with a fresh tomato salsa. He was debating between the salsa and a caper lemon butter sauce and wished he had gone with the latter. Unfortunately, he said the fresh salsa was a bit acidic and oniony. On top of that his fish had been slightly overcooked. It wasn't awful though, just not very remarkable at all. I want to believe because everything else was so good that this was a fluke and not typical of Fager's kitchen.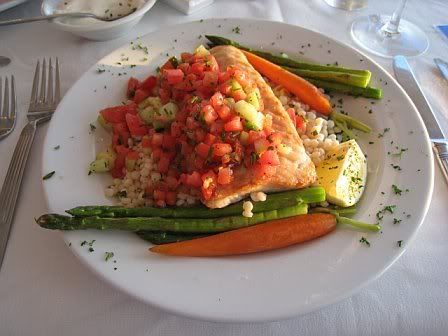 We decided to drink our dessert rather than eat it. I went with the Tiramisu Martini and my husband ordered a coffee drink with some kind of liqueurs in it. The martini was a little on the sweet side, but I definitely picked up the flavors of Tiramisu.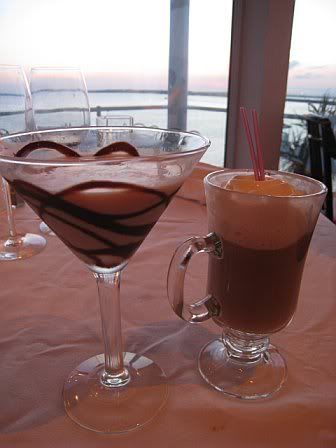 Overall a very nice dinner. It ended with a beautiful sunset to which the restaurant plays corresponding classical music. The music ends in a grand crescendo as the sun finally drops down below the horizon. Fager's fine dining is a definite must for any special occasion you'll celebrate while down at Maryland's eastern shore.
Enjoy!