I saw this recipe in my June
Food & Wine Magazine
and was really intrigued about combining the three title ingredients. Curry? Tofu? Avocado? In a dip? Things that make you go hmmm....turned out to be things that make you go MMMMMM!!
Yeah that was cheesy. Sorry.
Anyway, this dip was great. It combines silken tofu (which I've never used before) with light sour cream and fat-free Greek yogurt. So it's a dip that's good for you as well as light and easy to whip up. The curry flavor is quite strong so if you're not a fan of curry then you might want to steer clear. Or replace the curry flavor with something else perhaps? Maybe chili powder and cumin? Making it sort of a Mexican style dip rather than an Indian style dip. I think that would work! Give it a shot and let me know. Here's the recipe!
Enjoy!
Curried Tofu and Avocado Dip with Oregano Pita Chips
Source: Food & Wine Magazine, June 2009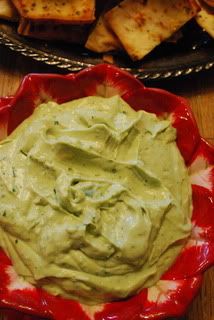 4 whole wheat pitas, split
2 tablespoons extra-virgin olive oil
1 tablespoon chopped rosemary (I used oregano because I have an overabundance in my herb pots)
Salt
7 ounces soft or silken tofu, drained
1 Hass avocado—peeled, pitted and coarsely chopped
1/4 cup low-fat sour cream
1/4 cup Greek-style, fat-free yogurt
1 teaspoon finely grated lime zest
2 tablespoons fresh lime juice
1 garlic clove
1 1/2 teaspoons honey
1 teaspoon curry powder
2 tablespoons chopped mint
Freshly ground pepper
Grape tomatoes, cucumber slices and radishes for serving
Preheat the oven to 325°. Stack the pita halves and cut them into 6 wedges; transfer to a bowl and add the olive oil and rosemary. Season with salt and toss. Spread the pita wedges on a baking sheet in a single layer and bake until crisp, 30 minutes. Let cool.
Meanwhile, in a food processor, puree the tofu, avocado, sour cream, yogurt, lime zest, lime juice, garlic, honey, curry powder and mint until smooth. Season the dip with salt and pepper and refrigerate until chilled. Serve the dip with the pita chips, tomatoes, cucumbers and radishes.