This dish was inspired by some others I saw on Food Network's website. A very simple, very summery side dish, perfect with grilled meat or fish. Enjoy!
Warm Grilled Zucchini Salad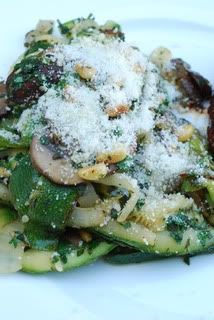 2 zucchini, sliced lengthwise into 1/4 inch strips
1 cup mushrooms, sliced
1/2 vidalia onion sliced
1/2 cup pine nuts, toasted
1/4 mixed chopped fresh herbs - I used parsley and oregano from my herb pots
olive oil for grilling
half of a lemon
salt and pepper
grated Parmesan
Drizzle olive oil over your zucchini, mushrooms and onions and season well with salt and pepper. Place a heat proof pan on the grill - preferably a grill pan but you could easily use a foil pan here - and put your vegetables down inside over medium heat.
Cook until the vegetables are softened.
Once softened remove from the grill and toss with the pine nuts, fresh herbs and juice of half a lemon.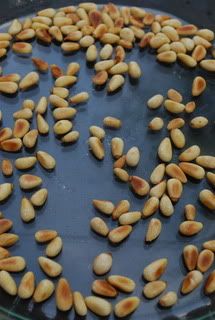 Serve warm with grated Parmesan cheese. Enjoy!