My first blog award! Thanks to
Something Sweet by Karen
. Karen's a fellow Barefoot Blogger who graciously passed on the following blog award to me: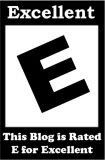 Here are the lovely bloggers I'm passing this on to as well. I check these blogs almost daily and have been very inspired by them! If you've already gotten this award before don't feel pressured to send it out again unless you want to. Just know that your blog is enjoyed :)
Macaroni and Cheesecake
Fresh From Cate's Kitchen
Home With Mandy
Taste of Home
My Italian Grandmother
Made With Love
A Cookie A Day
Proceed with Caution
Food Alla Puttanesca
From the French Kitchen
A little FYI to the deserving recipients, this award comes with a few rules attached to it:
Please find at least 10 more blogs of any kind which you deem to be excellent; but hey if you only come up with 3 or 5, I don't mind. Quality over quantity folks!
Post about the blogs you picked, linking back to me and to them.
Once you've posted, return here to let me know your post is up, and of course let your 10 award winners know too.
Congrats! Happy blogging!