I just joined
Barefoot Bloggers
about a week ago and while I was told I could start with the September recipes, I figured I'd give the optional August recipe a shot. Especially since it was grilled pizzas and I was looking for a casual dinner for me and my friends on our first night at the beach. I figured this would be a perfect fit - that was until I encountered rain on my drive down to the beach. I was afraid these "grilled" pizzas would end up being the regular old oven baked variety. Fortunately though when I arrived in Bethany Beach, the rain miraculously stopped. God must love the smell of grilled pizza too :) hee. So before everyone arrived at the beach house that afternoon, I set to work on Ina's pizza dough.
Now I've had my share of failures with making my own dough. Either my water is too hot and kills the yeast or I don't let it rise in a warm enough spot or I let it rise in too warm of a spot or I knead it too much or not enough. I can't ever seem to get it just right. This time however, either I'm Goldilocks or Ina Garten knows what she's doing. I'm thinking it's the latter.
Despite the ease of the recipe, I still had trouble and made a mess.
First of all for some reason I feel like once I put the warm water in the mixing bowl I need to work fast. Don't want the water to get cold while it waits for the yeast! So I pour the warm water in the bowl and reach for the yeast packets. I figured they would be an easy open - not so. I pulled and twisted, obviously missing the little scissors symbol on the packets. I finally ripped them opening sending little grains of yeast flying across the kitchen. Oops...I'll get to those later.
Once I activate the yeast with water, I still feel like the race is on to the finish. I don't know why, but I feel like there is some scientific reason out there why I can't dilly dally at this point.
So there I was. In the kitchen, feverishly measuring out the flour. Then I went to grab the mixer and DAMN IT! It was still in the frigging box. This was not good! This was going to take time to unwrap and put together. Please yeast - stay active, don't die on me!! Momma's gotta get the mixer ready! I was frantically pulling plastic bags off the beaters throwing the box here and there. It was a bit ridiculous. I finally got the thing out of the box, plugged it in and plunged it into the flour, water, yeast mixture. Once the water and flour was completely mixed, the mixer went commando on me and got completely jammed up with dough. Then it started spitting doughballs all over the place like it was possessed - Exorcist Mixer!
The salt shaker got it: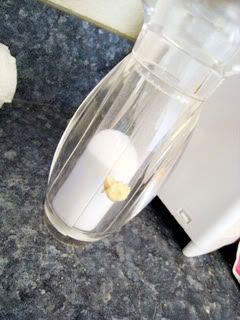 The knife block took a hit: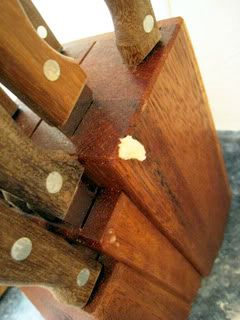 Even the innocent little honey bear got caught in the line of fire:
.
At this point, I took control. The mixer got the boot and my hands took over. Your best line of defense in a kitchen crisis. Finally my dough was mixed and kneaded and set to rise. Look at that lovely, yeasty dome: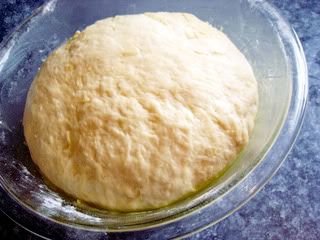 From this point on it was smooth sailing. I divided the dough into four dough balls, instead of six like Ina tells you to. Why? Because there were four of us so I figured we'd each have an individual pizza. Little did I know how large each of these would be.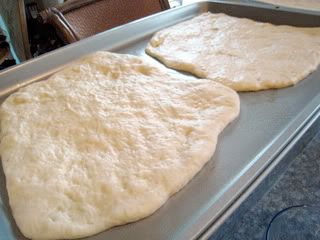 Oh well, leftover pizza is always welcome.
We gathered our chosen toppings: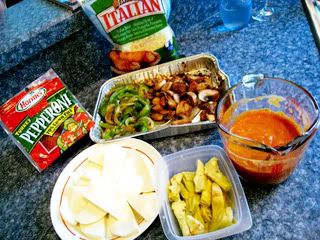 Yes that's turkey pepperoni. Please don't judge. Also, we had sauteed green peppers, mushrooms and onions, fresh mozzarella, shredded Parmesan, Romano and Fontina blend, homemade pizza sauce (here's the recipe -
Tomato Coulis
. I used this but added about a 1/2 cup of water to expand and thin it out), and quartered artichoke hearts.
Then we went to work making our creations.
Two of the pizzas came out round and two came out square. I really am not sure what happened there. I thought I was making four circles. Obviously, I need to work on my shapes.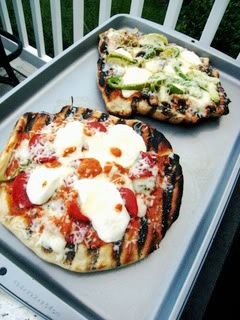 Both varieties tasted great though and the crusts came out crunchy and smoky. Overall, a pretty good experience - hopefully this is a sign of things to come with Barefoot Bloggers. I have to say though, it wasn't the tastiest of pizza crusts. Next time I think I will add some parm cheese and dried spices to the dough. It needed a little spice to it. I thought it was pretty bland. Also, and this may be my fault, but I thought it was a little too thick. I am a thin, crunchy pizza crust eater. These were a little more doughy than I prefer. I love pizza though and the idea of grilling it is great. I will definitely make this crust again, just try some small variations on it perhaps.
Here's the recipe if you're interested:
Grilled California Pizzas
www.foodnetwork.com, Barefoot Contessa
For the dough:
1 1/4 cups warm (100 to 110 degrees F) water
2 packages dry yeast
1 tablespoon honey
3 tablespoons good olive oil
4 cups all-purpose flour, plus extra for kneading
2 teaspoons kosher salt
For the toppings (select 8):
1 red onion, thinly sliced
1 pound fresh mozzarella, grated
1/2 pound Italian Fontina, grated
1/2 pound mild goat cheese, such as Montrachet, sliced
1 red or yellow bell pepper, cored, seeded, and julienned
1/4 pound prosciutto, thinly sliced and julienned
1 bunch arugula, cleaned and dried
6 plum tomatoes, sliced 1/4-inch thick
4 pork or turkey sausages, cooked and sliced
1 bunch basil leaves, cleaned and dried
4 garlic cloves, roasted
Crushed red pepper flakes
For prep:
1/2 cup good olive oil
Cornmeal
For the dough, combine the water, yeast, honey, and olive oil in the bowl of an electric mixer fitted with a dough hook. Add 3 cups flour, then the salt, and mix. While mixing, add 1 more cup of flour, or enough to make a soft dough. Knead the dough on low to medium speed for about 10 minutes until smooth, sprinkling it with flour, if necessary, to keep it from sticking to the bowl.
When the dough is ready, turn it out onto a floured board and knead by hand a dozen times. It should be smooth and elastic. Place the dough in a well-oiled bowl and turn it several times to cover it lightly with oil. Cover the bowl with a kitchen towel. Allow the dough to rest at room temperature for 30 minutes.
Divide the dough into 6 equal parts and roll each one into a smooth ball. Place the balls on a baking sheet and cover them with a damp towel. Allow the dough to rest for 10 minutes. Use immediately, or refrigerate for up to 4 hours.
If you've chilled the dough, take it out of the refrigerator approximately 30 minutes ahead to let it come to room temperature. Roll and stretch each ball into a rough 8-inch circle and place them all on baking sheets sprinkled with cornmeal. (You will be able to fit 2 pizzas on each 18 by 13-inch baking sheet.)
Light your grill and wait until it's hot.
Place the pizzas directly onto the grill and cook on 1 side for 1 minute. Turn the pizzas over and brush with olive oil or garlic oil.
Top the pizzas with any toppings you wish, piling them high. Drizzle each pizza with 1 tablespoon of olive oil. Put the lid on your grill and cook for 5 minutes more, until the crust is crisp and the toppings are cooked.