Well, blond-ies that is. I'm a huge fan of brownies too, but I adore chocolate chip cookies and I love how the blondie is a great brownie/cookie combo. It has the chewiness of a cookie with the denseness of a brownie. I found this recipe on the
Made With Love
blog and once I read the words "chocolate" and "peanut butter" in the title I knew I'd have to try them.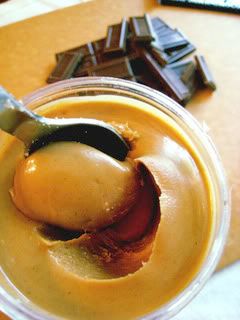 They turned out perfect and I fed them to all my girlfriends at the beach this past weekend. I hear peanut butter and chocolate helps you tan better! Hey, well it's better than thinking about how it will make my thighs look in a bathing suit.
Milk Chocolate Chunk and Peanut Butter Blondies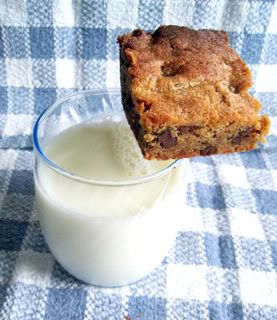 Source: Carole Bloom's The Essential Baker
Makes 16 2-inch squares
INGREDIENTS:
3 oz (6 Tbsp) unsalted butter, softened
1/2 cup natural-style, chunky peanut butter (My grocery only had smooth and it worked fine, better perhaps because I am not a fan of nut chunks in my blondies)
1 1/4 cups firmly packed light brown sugar
2 extra-large eggs, at room temperature
2 tsp vanilla extract
3/4 cup all-purpose flour
1 tsp baking powder
1/4 tsp salt
6 oz milk chocolate, chopped into small chunks
DIRECTIONS:
Center a rack in the oven and preheat it to 350 degrees. Spray your baking pan with cooking spray or you can line it with foil and grease your foil.
Place the butter in a large bowl and beat the butter on medium speed until it's fluffy, about 2 minutes.
Add the peanut butter and cream together.
Stop occasionally to scrape down the sides and bottom of the bowl with a spatula.
Add the sugar to the mixture and cream together.One at a time, add the eggs to the peanut butter mixture and beat well after each addition. Add the vanilla and blend completely.
Sift together the flour, baking powder, and salt. Add the flour mixture to the peanut butter mixture in two stages and stir together thoroughly.
Add the chocolate chunks to the batter and stir to distribute evenly.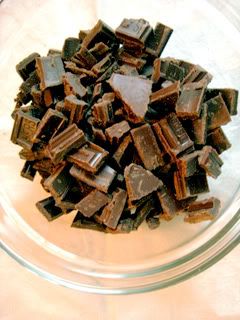 Pour the batter into the prepared pan and use a spatula to spread it evenly.
Bake the brownies for 35-40 minutes, until a toothpick inserted in the center comes out slightly moist.Remove pan from the oven and cool completely on a rack.
Lift the brownies from the pan with the aluminum foil and carefully peal the foil away from the sides. Cut into 4 equal-sized rows in each direction.