This flank steak should really be called "Drunken Steak with Horseradish Cream" or "Real Man's Steak". I found this recipe in an issue of
Waterfront Living
, a Maryland-based magazine about life on the Eastern Shore. They had a section for "smokin' tailgate recipes" and this one caught my eye. Not because I'm a tailgater, but mainly because my husband loves bourbon. I imagined him reading this recipe like Joey from friends, "Horseradish...good, steak...good, Bourbon....GOOOOOD!"
The recipe literally embodies all the food groups he enjoys - alcohol, meat and condiments. So we gave it a shot with very successful results. The steak is marinated overnight in a mixture of soy sauce and bourbon and then rubbed with a fragrant spice mixture about 30 minutes before throwing it on the grill. Then you serve it with horseradish cream. I threw in some caramelized onions for good measure. It was quite delicious and a very unique flavor combination. The bourbon definitely shines through, and to me that was a bit hard to get used to at first. Bourbon is not for the faint of heart, but my husband loved it. So fire up your grill and get your man-pants on, this steak is sure to impress. And I would also imagine it would go very well with a few cold beers and a mid-season football game, if you really are a tailgater. Enjoy!
Rubbed Flank Steak with Horseradish Cream
Marinade:
1 (1 to 1.5 lb.) flank steak
1/4 cup bourbon whiskey
1 tablespoon low sodium soy sauce
Horseradish Cream
1/3 cup plain yogurt
2 tablespoons prepared horseradish
1 teaspoon Dijon mustard
1 large garlic clove, minced
2 tablespoons of freshly chopped Italian flat-leaf parsley (my addition)
Rub:
1 tablespoon sugar
1 tablespoon paprika
1 tablespoon ancho chili powder
1.5 teaspoons black pepper
1 teaspoon garlic powder
1/2 teaspoon cinnamon
1 teaspoon cumin
pinch of salt
Marinate your steak overnight or for as long as 24 hours.
Prepare your horseradish cream and chill.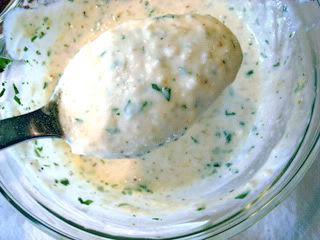 Prepare your rub.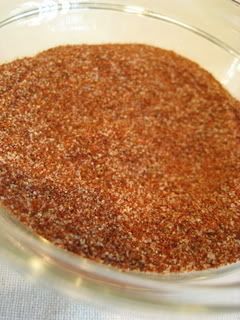 Remove your steak from the marinade and discard the marinade.
Rub your spice mixture on the moist steak 30 minutes before grilling(coming up is a photo showing why I never became a successful hand model):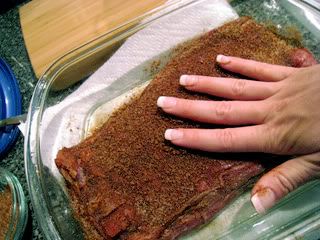 And there you have it! Fire up your grill, throw your steak on and cook till desired temperature.
My man is a medium rare steak-eater so I gave it about 5 minutes per side.
It came out nice and juicy and pink.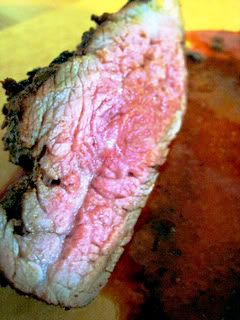 Honestly, it was a little too pink for me, but I ate it anyway.
Once you let your steak rest a while and cut it up, serve it with your horseradish cream and top with some caramelized onions.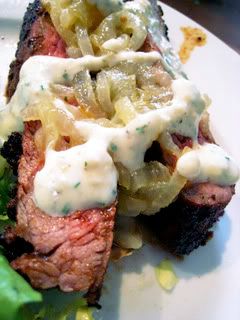 Beautiful!!
I served this with one of my favorite salads of all time from my
Nordstrom Family and Friends cookbook.
Pear, Gorgonzola and Sugared Walnuts Salad
Any lettuce you prefer, I think field greens or butter lettuce work best here.
1 pear, sliced thin
6 oz. of Gorgonzola cheese, crumbled
1/2 cup whole walnuts
3 tablespoons brown sugar
1 egg white
1 red pepper, sliced thin
1/2 cup canola oil
1/8 cup champagne vinegar or more if you like your dressy really tangy
1 teaspoon dijon mustard
salt and pepper
Wash and drain your lettuce. Arrange your pears, peppers and cheese on top. In a separate bowl mix together your walnuts, brown sugar and egg white. Preheat your oven to 375 degrees. Spray a baking sheet with cooking spray and lay your walnuts out on top.
Bake the nuts in the oven until crispy and golden brown, tossing once while in the oven. Remove your nuts and let them cool.
Meanwhile, whisk together the oil, vinegar, mustard and salt and pepper to taste. Once your nuts have cooled, toss them into the salad with your dressing and serve.