I found this recipe in the
Whole Foods Market Cookbook
. I love Whole Foods but there are a few problems. There aren't any close enough to my house that I would do my daily shopping there, and they are sort of pricey for everyday goods. I do love perusing through one when I come across it though. They have so many yummy looking prepared foods and their produce is seriously fresh.
The good part about the Whole Foods cookbook is that you don't necessarily have to shop at Whole Foods to make the food of course. So I was looking for a new and inspiring shrimp dish the other day and came across
Firecracker Shrimp
.
The description says the shrimp is flavored with a "fiery" almond pesto. I followed the ingredients and didn't end up with a fiery pesto. It was delicious, but there was no heat what so ever. The jalapenos were supposed to lend all the heat I think and honestly to me, jalapenos aren't that hot. So if you're looking for something truly fiery you may want to add some other hot peppers to this pesto. Otherwise, it's actually pretty mild.
I grilled the shrimp, rather than sauteing them and it turned out great. This was quick, easy and tasty - and quite different from a traditional shrimp dish. Enjoy! I submitted this to
Joelen's Culinary Adventure's
blog Mexican recipe contest.
Firecracker Shrimp
1/3 cup sliced or whole almonds
2 jalapeno peppers, seeded and halved
1 bunch of cilantro, stems removed
6 scallions, cut into 2-in lengths
3 cloves of garlic
2 teaspoons cumin
1/8 cup olive oil
1/4 cup water
juice of one lime
2 lbs shrimp (medium to large), peeled and deveined
1 tablespoon olive oil
salt and pepper to taste
To prepare the pesto, place the almonds, jalapeno peppers, cilantro, scallions, garlic, cumin, olive oil, lime juice and water in a food processor and blend into a smooth paste. Season your shrimp with salt and pepper and then toss it with your pesto in a bowl. Cover with plastic wrap and let it sit in the fridge to marinate for about 30 minutes.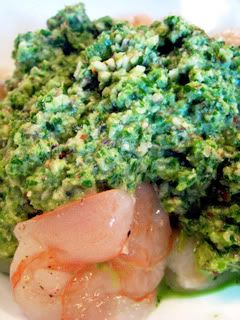 If you're grilling them, preheat your grill and spray a grill pan or grilling skillet with cooking spray. Once hot, place your shrimp in a single layer on the grill pan. Let them cook about 3 to 5 minutes each side, depending on their size and thickness. The pesto will start to form a caramelized crust on the shrimp.
Remove from the grill and serve. If you're sauting the shrimp in a pan, heat the tablespoon of olive oil over moderate heat. Saute the shrimp in a single layer in the pan until pink and opaque. Deglaze the pan with a bit of lime juice and serve.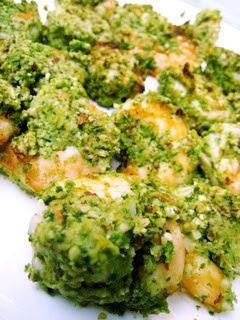 Fiesta Peppers
I have made several versions of these over the years. I call these ones fiesta peppers because of their bright colors. They were a great compliment to the shrimp. Originally when I was making this, I put in a splash of white wine when my mother said, "You should have put in a splash of tequila instead since it's kind of Mexican." If you know my mother, it's not surprising that she thought of this! She loves herself some tequila. Not in a bad way or anything - I'm not outing her as an alcoholic here! She just loves margaritas and has been known to take on the occassional tequila shot. Anyway, enough about my mom's drinking habits. I thought that the suggestion was a great idea so I'm writing the recipe with the tequila instead of the wine. Much more fitting for a fiesta pepper.
2 red peppers, cut in half, stems and seeds removed
1/2 onion, chopped
2 cloves of garlic, minced
2 jalapeno peppers chopped
1/2 green pepper, chopped
3 tablespoons olive oil
1 teaspoon cumin
1 teaspoon chili powder
1/4 teaspoon ground coriander
1/2 teaspoon of crushed red pepper flakes
juice of a lime
splash of tequila
1 can black beans, drained
1 mango, chopped
1 avocado, chopped
1 cup of shredded cheddar cheese
Set your peppers aside for now. Meanwhile, heat your olive oil in a large skillet and throw in your onions, garlic and peppers. Let these saute for about 8 minutes until softened and then add your spices and the juice of a lime. Once your spices have been incorporated, remove the pan from the heat and a generous splash of tequila. Put your pan back on the heat and bring it up to a simmer.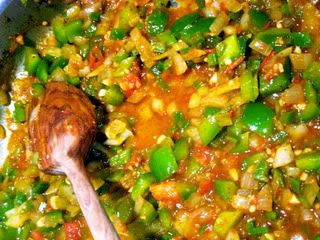 Once the alcohol smell has cooked off, add your black beans. Toss your beans to warm them through and soften them up.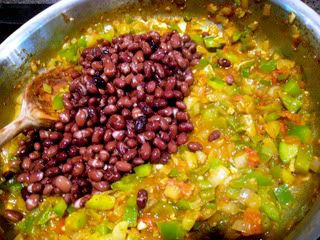 After about 4 minutes, remove the mixture from the heat and add your chopped mango and avocado. Stir to combine.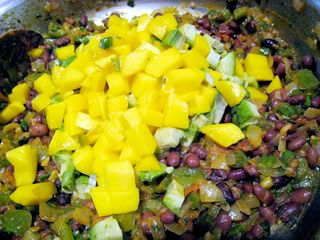 Now preheat your grill and place your peppers, skin side down. Check them after about five minutes, they will have softened and you can flip them once and cook them for another 3 to 5 minutes. Once they are slightly softened and charred, remove them from the heat.
Fill each pepper half with your filling mixture and top with a 1/4 cup of the shredded cheddar.
Place the peppers back on grill or under a broiler (or even in the microwave) to simply melt the cheese.
Serve with guacamole or sour cream and enjoy!