So this is my first introduction recipe to
Barefoot Bloggers
! I'm really excited to be a part of this group because I've always loved Ina's recipes and her show on The Food Network. I feel like every time I watch her show I end up saying, "That's so simple! Why didn't I think of that?" She just has such a great way of making everyday food elegant. So we'll see how I do with this.
For the first challenge, I tackled her recipe for Grown Up Mac and Cheese.
I had a few issues with this recipe. For one, it used a ton of pots and pans and measuring cups - which seems a bit extreme for something as simple as macaroni and cheese but I really didn't see any way around it. My double sink was full! Thankfully, my husband did the dishes.
Secondly, DAMN these cheeses were expensive!! I think I spent nearly $20 on cheese alone. I thought macaroni and cheese was "the working man's" pasta. Well, this one definitely is not! The cheapest chunk was the blue at $3 for 4 oz. Don't get me wrong, I love cheese and have tried several in my day and know they are expensive. It just kind of blew me away to rediscover how much Gruyere was! And the fact that it smells like feet doesn't make it any easier to plunk down $9 for a wedge of it.
Thirdly, after spending all that money on cheese I really expected this dish to be a lot more cheesy than it was. I thought it was a bit lacking in the ooey gooey cheese department. I even added a little more than what Ina called for. I also thought the plain old breadcrumbs on the top added nothing to the recipe but more carbs. I have a hard enough time fitting into my pants already!
I get that it added crunch, but I think buttery breadcrumbs would have been more flavorful.
Overall, I really did like this macaroni and cheese, but next time I make it I'll have to kick it up a notch with more cheese, maybe some butter and spices in my breadcrumbs and I think crumbled spicy Italian sausage next time instead of bacon.
Anyway here's the recipe!
Grown Up Mac & Cheese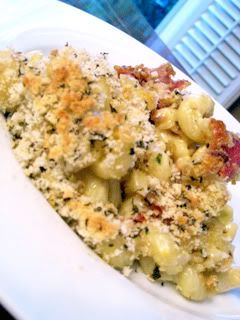 4 ounces thick-sliced bacon (I used 6 oz. because that was the smallest package I could find in the store)
Vegetable oil (I used olive oil)
Kosher salt
2 cups elbow macaroni or cavatappi (I used cavatappi)
1 1/2 cups milk
2 tablespoons unsalted butter
2 tablespoons all-purpose flour
4 ounces Gruyere cheese, grated
3 ounces extra-sharp Cheddar, grated
2 ounces blue cheese, such as Roquefort, crumbled
1/4 teaspoon freshly ground black pepper
Pinch nutmeg
2 slices white sandwich bread, crusts removed
2 tablespoons freshly chopped basil leaves
Preheat the oven to 400 degrees F.
Place a baking rack on a sheet pan and arrange the bacon in 1 layer on the baking rack. Bake for 15 to 20 minutes, until the bacon is crisp. Remove the pan carefully from the oven - there will be hot grease in the pan! Transfer the bacon to a plate lined with paper towels and crumble when it is cool enough to handle.
Drizzle oil into a large pot of boiling salted water. Add the macaroni and cook according to the directions on the package, 6 to 8 minutes. Drain well.
Meanwhile, heat the milk in a small saucepan, but don't boil it. Melt the butter in a medium pot and add the flour. Cook over low heat for 2 minutes, stirring with a whisk. While whisking, add the hot milk and cook for a minute or 2 more, until thickened and smooth. Off the heat, add the Gruyere, Cheddar, blue cheese, 1 teaspoon salt, pepper, and nutmeg.
Add the cooked macaroni and crumbled bacon and stir well. Pour into 2 individual size gratin dishes. (I put it into one baking dish because I don't have individual gratin dishes.)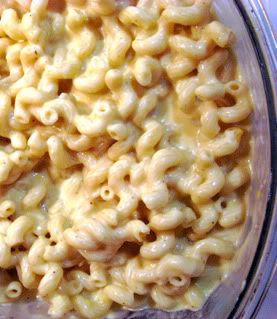 Place the bread slices in a food processor fitted with a steel blade and pulse until you have coarse crumbs. Add the basil and pulse to combine. Sprinkle the bread crumb mixture over the top of the pasta. Bake for 35 to 40 minutes, or until the sauce is bubbly and the macaroni is browned on the top.