A few weekends ago we celebrated all the August and early September birthdays in our family with a big dinner at my mom's house. My mom, my brother-in-law and my brother's girlfriend all celebrate their birthday within the last week of August, first week of September. So we gathered at the maternal homestead for a feast.
In my family, when we celebrate something special it usually means we're having fish or red meat (unless it's Thanksgiving when we have turkey). Otherwise, it's fish or red meat. On this particular occasion it was fish. And fancy fish at that. Prosciutto-wrapped halibut in a mushroom tomato marinara sauce. My choice after searching through various culinary novels in awe.
I found this delectable recipe in
The Newlywed's Cookbook
. This, by the way, is a beautiful cookbook that I received as, you guessed it, a wedding gift. I hope the title didn't give away my surprise ending? Damn!
Anyway, this was a very attractive meal, besides the fact that it represented a favorite Halloween costume, a mummy. See you wrap your fleshy halibut - or monkfish if you prefer - filet in sheets of papery thin Prosciutto (or you can use bacon if you can't find Prosciutto). When your fish body is all wrapped up it resembles a well-wrapped sarcophagus! I just can't help but make the comparison.
Anyway, this was quite the tasty fish dish, however I did overcook it a bit. I followed the directions in the recipe but I'm afraid that they require way too much time in the oven for Mr. Halibut. He does not need to sweat for that long before bringing his fine self to the table. So I'm using my judgement to adjust the timing on this recipe because next time I make this I won't cook it nearly as long. Otherwise, a very flavorful and quite impressive looking "special occasion" meal. We served it with gorgonzola polenta, roasted broccoli with garlic and Caesar salad. What's that? You want to come to my family's next dinner party? Well sure! We'd love to have you. Usually 7 p.m. on Sundays. Enjoy :)
Prosciutto-Wrapped Halibut
12 thin slices of Prosciutto or bacon, enough to cover the fish
1 filet of Halibut, enough to fee 7-8 people
2 tablespoons extra virgin olive oil
1.5 cups sliced mushrooms
2 large garlic cloves, minced
1 cup dry white wine
1 20 oz. can of chopped plum tomatoes
2 tablespoons of cream
a handful of fresh basil leaves, chopped
sea salt
Rinse and dry your fish filet with a paper towel. Take your Prosciutto slices and law them on a work surface with the slices slightly overlapping each other. Put your fish filet on top, belly up (skin removed). Wrap the Prosciutto slices around the fish and secure. Turn over and set aside.
Heat the oil in a large skillet. Add the mushrooms and a pinch of salt and cook until browned, 3 to 5 minutes. Stir in the garlic.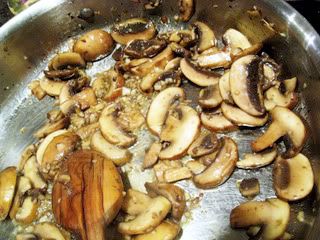 Add the wine and cook over high heat for one minute. Stir in the tomatoes and simmer for 5 minutes.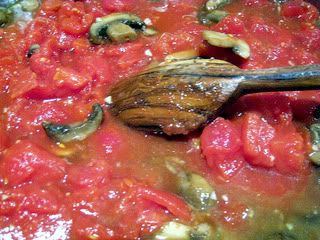 Pour the tomato sauce into a baking dish just large enough to hold the fish. Set the fish on top of the sauce and roast in a 425 degree oven for 15 minutes.
Then turn the heat down and roast at 400 degrees for another 15 minutes. Remove from the oven and stir in the basil and cream into the sauce. Transfer to a platter, set the fish filet on top and serve.