What? Of course those two things go together. Let's start with the Smoked Salmon Dip.
This is a recipe from the famous Barefoot Contessa herself, Ina Garten. I've made this smoked salmon dip so many times for family gatherings and other parties I know the recipe by heart. I usually serve it with crostini or Carrs table water crackers. This time my mom threw in some pumperknickel sticks from Pepperidge Farm and they've become my new favorite dipper with this creamy concoction.
Despite the fact that I know the recipe by heart though, I still always seem to forget one important ingredient - horseradish. And I don't mean I just forget to add it, I forget to buy a damn jar at the store. So I get home and have to substitute something else, which is nearly impossible. This time I substituted a tablespoon of dijon mustard. It was pretty good, but horseradish is better.
Anyway, here's the recipe - and don't be like me and forget the horseradish.
Smoked Salmon Spread
www.foodnetwork.com, Ina Garten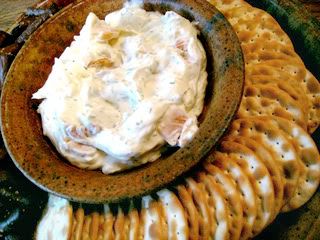 8 ounces cream cheese, at room temperature
1/2 cup sour cream
1 tablespoon freshly squeezed lemon juice (I use the juice of half a lemon)
1 tablespoon minced fresh dill (I add about 1/4 cup of fresh dill because I like it)
1 teaspoon prepared horseradish, drained (Or substitute dijon mustard)
1 teaspoon of minced garlic (my addition)
1/2 teaspoon kosher salt
1/4 teaspoon freshly ground black pepper
1/4 pound (4 ounces) smoked salmon, minced
Cream the cheese in an electric mixer fitted with a paddle attachment until just smooth. Add the sour cream, lemon juice, dill, horseradish, salt, and pepper, and mix. Add the smoked salmon and mix well. Chill (I let it chill in the fridge for at least an hour before serving, it helps the flavors all come together) and serve with crudites or crackers.
If you can find it, I prefer Norwegian salmon; it's drier and less salty than other smoked salmon.
Woodberry Kitchen
This is a beautiful space for a restaurant. First of all, it's in this old brick mill building in downtown Woodberry. My husband would probably laugh his head off at the notion of a "downtown Woodberry". See, he grew up in Woodberry, which is a small section of the city right between Hampden (bluecollar neighborhood made famous by John Waters and Honfest), and Roland Park (the swanky, old money section of Baltimore). Woodberry is kind of like that middle child who gets forgotten about and overshadowed between his two more noteworthy brothers. When people ask where my husband is from and he tells them, "I grew up in Woodberry" he gets the, "Oh...uh where?" and then he tells them, "It's where the tv towers are" and instantly people know where it is. See Woodberry is a very simple, bluecollar neighborhood that sits at the bottom of Baltimore's Television Hill, which houses our local tv stations. Woodberry is characterized by rowhomes, the infamous tv towers, the old mill buildings (which have been turned into condos, studios and Woodberry Kitchen), and the original dark stone mill houses. Daniel, my husband, grew up in one of the old mill houses and never called any portion of his hometown, downtown Woodberry. It didn't technically exist. And still probably doesn't, but that's besides the point.
I call it downtown Woodberry because this area that was once rundown and abandoned has been turned into a beautiful metropolitan collection of architectural aestheticism.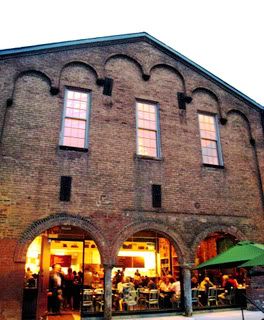 In addition, it's a gathering place for people, hence a downtown. The fascinating part is, that Woodberry Kitchen and it's surrounding establishments, have probably drawn people to Woodberry who would normally never venture there and who would have most likely passed it by for it's much more talked about neighboring towns. But watch out Hampden and Roland Park, Woodberry Kitchen is putting Woodberry on the map.
The space itself is quite intriguing. To find the restaruant you can go a few ways, one of which takes you over train tracks, another under a bridge and another past Baltimore's last remaining dirt road. Once you pull up to the old mill, it's quite an enchanting view. Across the street is the sunken "Roman bath"-style pool for the neighboring condos, complete with Olympic-style torches and white columns. It is made even more scenic by a treeline backdrop of tall bushy Evergreens. Then you look to the right and see Woodberry Kitchen's outdoor patio dining, quite pleasantly appointed with classic uplighting, green umbrellas and candles.
Once inside, the restaurant continues to be a rustic feast for the eyes. The tall ceilings are left open allowing for a second loft-style level of seating. Exposed brick, steel beams and unclothed tables with metal chairs set the casual elegance of Woodberry Kitchen's atmosphere.
Even the waitresses wear colorful "mom" aprons to pay homage to the area's local longtime residents who cooked their family meals in real Woodberry kitchens.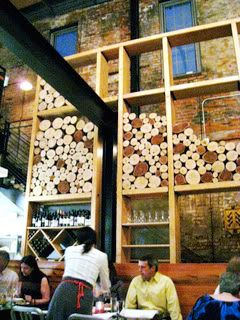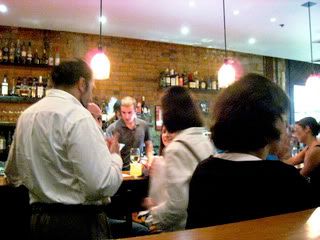 The menu at Woodberry is quite unique. The restaurant only uses fresh, local ingredients, many of which are organic. They also say on their
website
, that they emphasize sustainable agriculture. There are two boards hanging above the open kitchen. One proclaims the specials for the day along with the various flatbread pizza choices. The other announces the day's homemade ice cream flavors.
To start, my group ordered a few flatbread pizzas, including one with ham and fresh peaches. The pies were the perfect starter and came to the table hot, cheesy and crispy. For dinner, most of us ordered an appetizer and entree. They do however, offer a variety of hot and cold small plates so you can eat tapas style if you'd like, which is what I chose. I opted for the roasted eggplant stuffed with lamb and mint and drizzled with yogurt sauce.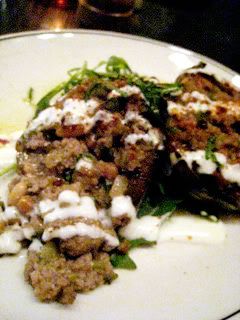 The dish was hearty and spicy and perfectly done. To accompany it I had the shrimp bisque, which was surprisingly light for a cream soup. A few of my dining partners opted for the roasted pork tenderloin. A sizable piece of meat, nicely spiced and seared and served artfully with sausage and corn pudding.
Daniel got the clams casino. Six tiny clams arranged on a bed of rock salt. He said they were some of the best clams casino he's ever had. I was too full to partake unfortunately.
Another dish that graced our table was the Kitchen Primavera. Wide organic spelt noodles and brightly colored seasoned vegetables filled a shallow bowl. It smelled great and looked even better. I'm told it tasted equally good as well.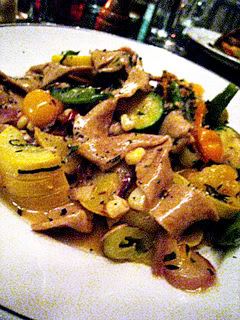 Overall, we really enjoyed our visit to Woodberry Kitchen and I would definitely venture to downtown Woodberry to eat there again. Some words of advice however, if you plan to go on a weekend please make a reservation. There were many poor souls without who were standing for longer than an hour. And if you plan to take pictures while you're there use your flash. As you can see while I love mood lighting, it makes it difficult to get flash-free pics.