There's a new perfect chocolate chip cookie in town.
I'm sure everyone's seen that Friends episode where Phoebe lost her grandmother's famous cookie recipe in a fire. It was passed down from Phoebe's alleged great-great-grandmother, Nesele Tollouse. Monica eventually set Phoebe straight, revealing that her so-called family recipe was actually an internationally beloved recipe from the back of the Nestle Tollhouse chocolate chip bag.
This recipe has been the go-to chocolate chip cookie recipe in my family for years. No, my mother never tried to claim it as her secret recipe - but people were always shocked to learn that those delicious cookies were the Nestle Tollhouse version. Why this came as such a blow to people I'll never know, but it always was met with dropped jaws and a big, "NO WAY!". No way? Why? I mean who better than a chocolate chip maker to create a tried and true recipe that uses their product? It makes perfect sense to me. So no matter what anyone says and despite cookie snobbery, it is one of the best no-fail cookie recipes in town. That said, it takes a lot to convince this true believer to try another recipe.
However, I found this chocolate chip cookie recipe on
Annie's Eats
blog. It has been on many other blogs as well so I wanted to see what all the hype was about. I discovered this cookie recipe truly deserves all the praise it receives. And dare I say it, but it rivals Nestle's good old standby. They are very similar actually, but there is a subtle difference I haven't been able to identify yet.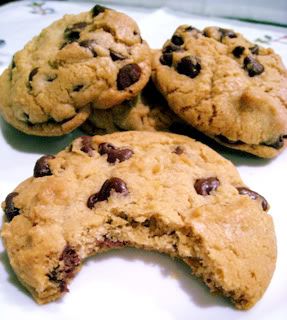 I had one problem though that I ALWAYS have with cookies. I don't know if it's me or the cookie sheets (I prefer to blame the sheets), but I never get chewy cookies. Sure they are chewy when they first come out of the oven but once they cool they crisp up. Don't get me wrong, they're still delicious but does anyone know how to keep that chewy texture after they cool down? When I was a kid and we used to buy Mrs. Fields cookies at the mall for a special treat, they would tel you to keep a piece of bread in with the cookies to keep them soft. Does this work for fresh baked homemade cookies? I'm thinking it's preservatives that keep the store-bought variety soft. But if you know otherwise I'd love to hear about it. Meanwhile, here's the recipe. You will not be disappointed. They are perfection in cookie form.
Thick and Chewy Chocolate Chip Cookies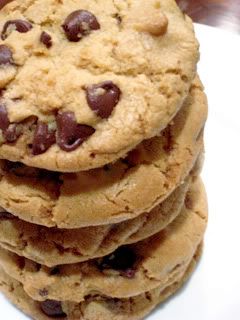 Ingredients:
2 cups plus 2 tbsp. all-purpose flour
½ tsp. baking soda
½ tsp. salt
12 tbsp. unsalted butter, melted and cooled until warm
1 cup brown sugar, packed
½ cup granulated sugar
1 large egg plus 1 egg yolk
2 tsp. vanilla extract
1 ½ cups semi-sweet chocolate chips
Directions:
Adjust oven racks to upper and lower-middle positions. Preheat oven 325°. Line two cookie sheets with parchment paper.
Whisk dry ingredients together in a medium bowl; set aside. With electric mixer, or by hand, mix butter and sugars until thoroughly combined. Beat in egg, yolk, and vanilla until combined. Add dry ingredients and beat at low-speed just until combined. Stir in chocolate chips.
Roll a scant half-cup of dough into a ball. Holding dough ball in fingertips of both hands, pull apart into two equal halves. Rotate halves 90 degrees and, with jagged surfaces facing up, place formed dough onto cookie sheet, leaving ample room between each ball. Bake, reversing position of cookie sheets halfway through baking, until cookies are light golden brown and outer edges start to harden yet centers are still soft and puffy (approximately 11-14 minutes). Do not overbake.
Cool cookies on sheets until able to lift without breaking. Transfer to a wire rack to cool.
Cooks Note: I used Crisco butter sticks instead of butter because it's all I had in the house. They turned out beautifully though - picture perfect in fact if I do say so myself.