Last weekend I had two of my best friends from college come in from Minnesota and one up from Northern Virginia to go to the Eastern Shore with me for the weekend. It's become a tradition. My dad has this great townhouse in Bethany Beach that he generously lets me use and so every summer I set aside two to three weekends for "girls weekends". Every year the crowd of friends grows bigger, my friends invite one of their friends, or I meet someone new who comes along (which at my age always amazes me! Not that I'm old, but it's hard to meet new people when you're not in school anymore). Anyway, it's become such a fun summer tradition and all my friends look forward to it. In April they start asking if I've chosen the "girls weekend" dates yet so they can make sure to set that time aside. You truly realize how important it is to keep in touch with your girlfriends. As much as we all love our husbands or SO's if we got 'em, there's nothing like good girl time to really set your spirits right.
We usually make it a pretty comprehensive weekend too - full of relaxation, some partying and tons of beach time. It's a blast!
Anyway, these two friends of mine couldn't make the other weekends, so we planned a later summer weekend just for the three of us. I wanted to bring down a breakfast bread that the we could enjoy in the mornings before heading off to enjoy the beach for the day. I found this on the
Dinner and Dessert
blog and it looked like a delicious twist on traditional banana bread. It turned out great and the girls really liked it. It was moist, flavorful and I really loved the addition of the apples. I baked it in a fall-themed loaf pan I received as a gift as well, adding to the fall feel. I hope you can enjoy it with your friends and loved ones too!
Banana Apple Bread (Source: The Sweet Melissa Baking Book)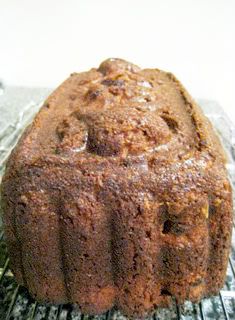 For the apples:
2 tablespoons unsalted butter
3 tablespoons firmly packed dark brown sugar
2 Granny Smith apples, peeled, cored, and cut into 1/2-inch pieces
½ teaspoon ground cinnamon teaspoon pure vanilla extract
(I also added a splash of Captain Morgan spiced rum to the apples and then let the alcohol cook off for some extra flavor - because we all have to have a little Captain in us! hee)
For the banana bread:
2 cups all-purpose flour
1 teaspoon baking soda
½ teaspoon ground cinnamon
¼ teaspoon ground cloves
¼ teaspoon freshly ground nutmeg
½ teaspoon kosher salt
8 tablespoons (1 stick) unsalted butter
1 cup granulated sugar
2 large eggs
¼ cup fresh orange juice
1 teaspoon pure vanilla extract
1 ¼ cups very ripe mashed bananas (2 to 3)
Before you start:
Position a rack in the center of your oven and preheat the oven to 350°F. Lightly butter and flour a 1 1/2-quart loaf pan.
To make the apples:
Preheat a medium skillet over medium-high heat. Add the butter and brown sugar and heat until bubbling. Add the apples and cinnamon and sauté until golden and tender, about 5 minutes. Stir in the vanilla. Remove from the heat and set aside to cool.
To make the banana bread:
In a medium bowl, whisk together the flour, baking soda, cinnamon, cloves, nutmeg, and salt.
In the bowl of an electric mixer fitted with the paddle attachment, cream the butter and sugar until light and fluffy, 1 to 2 minutes. Add the eggs, one at a time, mixing well after each addition. Scrape down the sides of the bowl.
In a small bowl, combine the orange juice and vanilla.
Add the flour mixture to the butter mixture in three batches, alternating with the orange juice mixture, mixing well after each addition. Scrape down the sides of the bowl after each flour addition. Stir in the mashed bananas until combined. Then stir in the reserved apples.
Pour the batter into the prepared loaf pan. Bake for 55 to 60 minutes, or until a wooden skewer inserted into the center comes out clean. Remove to a wire rack to cool for 20 minutes before unmolding onto the rack to cool further.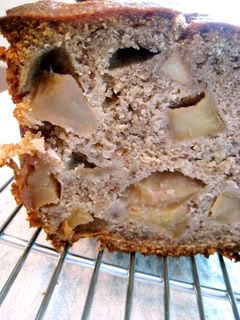 *Serve slightly warm or at room temperature. The banana bread keeps well wrapped in plastic wrap at room temperature for up to 3 days. For longer storage, freeze well wrapped in plastic wrap and then aluminum foil for up to 3 weeks. Defrost (still wrapped) at room temperature.