My college roommate, who was great by the way, bought me a fabulous cookbook one year for Christmas. Knowing I was Italian, she gave me
Italian Immigrant Cooking with Elodia Rigante
. No Elodia Rigante is not a famous celebrity chef. But damn she should be! First of all, this is a beautiful cookbook full of some of the most appetizing looking Italian comfort foods I've ever seen. On the cover is darling little Elodia, your quintessential Italian grandmother - stout, smiling, wearing an apron and looming over a table full of enough food to feed an army.
That should have been an indication to me! One night I set out to make her potato and tomato pie. The recipe said, like all in her book do, that it serves 4. It made two gigantic pies! Serves 4 what? Elephants? 4 households? 4 countries? I mean come on Elodia!! That was the last time I followed her "Italian" measurements. From then on I've halved everything, unless I'm cooking for a crowd.
Anyway, that said, there are so many delicious recipes in the book and her Anchovy Sauce with Marsala is no exception.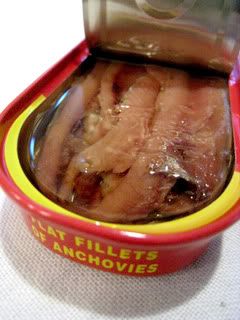 It's not a typical Marsala sauce because she adds the salty bite of anchovies, along with capers and mustard. I really love the flavor combination here. The anchovy does not taste fishy - it adds a richness to the sauce that is hard to explain. If you don't like anchovies, I think you'll still like this sauce.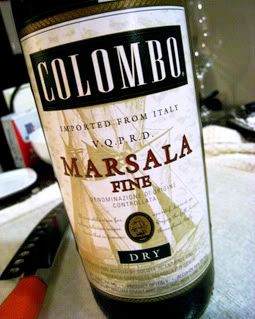 She gives you the recipe for the sauce and says you can put it over chicken, pasta, grilled meat or fish or serve with rice. I usually serve this with chicken and plain old pasta or garlic mashed potatoes. This time however, I served it with gorgonzola and caramelized onion polenta. It was a great complement to the chicken. A very hearty, tasty meal. So here you go! Oh and by the way excuse my "final dish" photo. I was so freakin' hungry by the time we sat down to eat I had no patience for setting up photos. So I took a few quick snapshots of the food that I very unartistically slopped on my plate, knew they all sucked but said, "Screw it! I'm eating."
You may find yourself saying the same thing when this delectable meal is staring you in the face from your plate :) Enjoy!
Chicken with Anchovy Marsala Sauce
(THESE ARE HER MEASUREMENTS SO ADJUST ACCORDINGLY IF YOU'RE ONLY MAKING THIS FOR 2)
4 chicken breasts, pounded thin
flour for dredging chicken breasts (about 1 cup)
4 tb olive oil
2 cups mushrooms
1/2 onion, minced
3 cloves garlic, minced
3/4 cup chopped anchovies (I had this measurement wrong at first - however, if I'm making this recipe I usually do 8-10 filets chopped up, 3/4 cup is A LOT, it's the whole can)
2 tb chopped fresh rosemary (my addition!)
2 tb butter
2 cups chicken broth
1/2 cup dry Marsala wine
1 tb dijon mustard
1/4 cup capers (optional - I don't really like capers so I usually leave them out)
Once you've pounded your chicken breasts to about a 1/2 inch thick, season them with salt and pepper and then dredge them in flour to coat. Put two tablespoons of your olive oil in a saute pan on medium heat. Once the oil is warm, add your chicken breasts, two at a time.
Let each breast cook about 5 minutes per side, until it gets golden brown and crispy. Once you've cooked all your chicken breasts, remove them from the pan and set aside. Tent with foil to keep warm.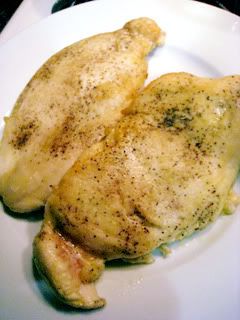 In the same skillet, add your remaining two tablespoons of olive oil, along with your butter. Throw in your mushrooms, garlic, onion, rosemary and anchovies.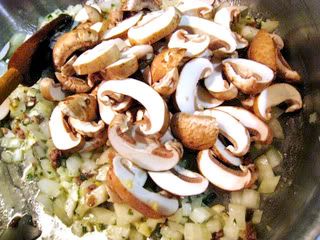 Stir to coat with the oil and butter and cook until slightly softened. Next add your chicken broth, mustard and the marsala wine.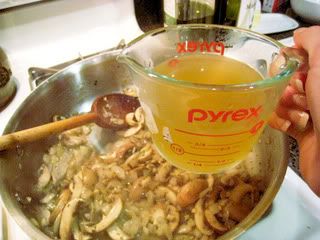 Stir to combine and let simmer until the sauce thickens up a bit. If it's not thickening you can whisk in a little flour or some cornstarch if you'd like.
At this point I also like to sprinkle in about a teaspoon of crushed red pepper flakes to give it a little zing. If you're using capers, you could add those now too.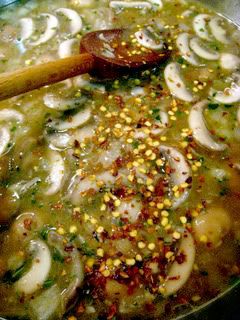 Once your sauce is at it's desire consistency, add your chicken back to the pan to warm through and then serve each piece of chicken with a generous coating of sauce.
Gorgonzola Polenta with Caramelized Onions
The Cheese Lover's Cookbook and Guide
by Pamela Lambert
(This makes A LOT of polenta, so please half or quarter the recipe if you only have 4 people. This recipe would easily serve 8 or more as a side dish.)
6 cups water
2 teaspoons salt
2 cups polenta
2 cups milk
8 oz gorgonzola crumbled
a few sprigs of fresh rosemary for garnish
2 onions
3 tb balsamic vinegar
salt
2 tb olive oil
Bring your water and salt to a boil in a large pot and then add your polenta. Once the polenta begins to thicken add your milk and stir. Finally add your gorgonzola crumbles. Stir in some chopped fresh rosemary and salt and pepper to taste and serve topped with caramelized onions.
For the onions:
Slice up your onions thinly and place in a saute pan with your vinegar salt and olive oil. Cook over low heat to avoid burning. Stir occasionally and cook about 20 to 30 minutes until onions are completely softened and their sugars have caramelized. Remove from heat and spoon over your polenta.