Ok I don't know if this can technically be called Greek Chicken. I mean, I'm not Greek so what do I know? I used some typically Greek ingredients to make it though, feta cheese, kalamata olives, oregano, lemon, tomatoes. So I figured calling it Greek Stuffed Chicken worked. Then I wasn't sure if the name sounded like I stuffed my chicken with an actual Greek. In essence, my adjective placement may be off - perhaps it should read Stuffed Greek-Style Chicken or Greek-Style Stuffed Chicken. Better? Yes? You don't care? Just give you the recipe I came up with? Ok. I can definitely handle that!
This was such a refreshingly light chicken dish. I had a ton of things to use up in my cabinet so I bought a few fresh ingredients, the green beans, a lemon and a tomato and then went to work with what I had.
I stuffed the chicken with a mixture of spinach, feta, romano cheese and olives. Then topped it with herb butter, sliced lemons and tomatoes, wrapped it in a foil packet and threw it on the grill. Enjoy! And I think I came up with an even better name - although it sounds kind of Rachael Rayish.
It's All Greek To Me Stuffed Chicken (har har)
4 chicken breasts
1 bag of baby spinach leaves, or a package of frozen chopped spinach
2 cloves garlic, minced
1 tablespoon extra virgin olive oil
3/4 cup crumbled feta
1/2 cup chopped kalamata olives
1/4 cup romano cheese, grated (or you can use Parmesan)
8 sprigs of fresh oregano, chopped (I used a lot of oregano, you could tone it down if you wanted and just use half this amount)
a handful of chopped fresh Italian flat-leaf parsley
4 tablespoons butter, softened or melted
2 lemons, sliced
2 tomatoes, sliced
foil for making packets
Preheat your grill.
Now to begin you can either pound your chicken thinly and then roll the filling up, or you can do what I did and cut a pocket in each piece of chicken.
Meanwhile, put your garlic and olive oil in a saute pan. Add your bag of baby spinach and cook until your leaves have wilted. If using frozen, just cook the garlic to soften it and then add your drained, thawed spinach and stir to mix with the garlic and oil.
Remove from the pan and let cool. In a small bowl mix your feta, olives and romano cheese. Once your spinach has cooled you can mix that in as well.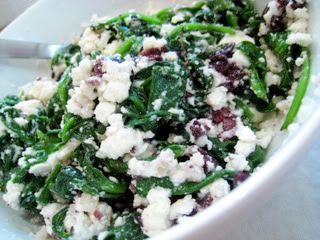 Now I only had two chicken breasts so I overstuffed them since I had a lot of filling. But this easily makes enough filling for four chicken breasts. So anyway, lay your chicken on a large piece of foil and stuff the pocket you made with the spinach mixture.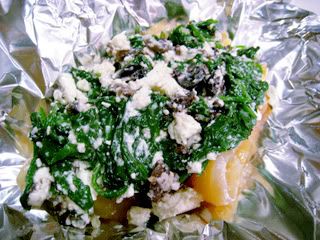 Then fold your breast over to enclose the mixture as best as you can.
Meanwhile mix together your chopped herbs and butter to form a spread. If you use melted butter that's fine too - you'll just pour it over each breast. Take your butter mixture and spread or pour an even amount over each breast. Then top each breast with lemon and tomato slices.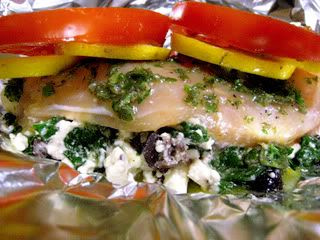 Finally loosely wrap your little chicken packages up and throw your foil packets on the grill.
They'll cook for about 15 to 20 minutes, basically steaming inside the foil packets. Keep an eye on them and peek in the packets after about 10 minutes just to make sure your grill is hot enough and the juice of the tomatoes, spinach mixture and lemons are bubbling. Be careful not to overcook the chicken.
Remove and serve.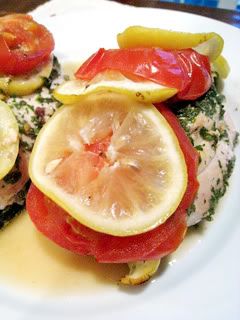 Discard the tomatoes and lemons before eating. But you probably already knew that :)
Cranberry-Pecan Green Beans
1 package of green beans or haricot verts
2 shallots, minced
1 tb butter
1 tb olive oil
1/2 cup chicken stock
1/2 cup dried cranberries
1/2 cup whole pecans given a very rough chop
Steam your beans until slightly tender, but still bright green - don't overcook! They will cook a bit more in your saute pan. Meanwhile in a saute pan, cook your shallots in butter and olive oil until softened. Add your beans to the pan along with your chicken stock and cranberries. Let the chicken stock reduce by half, it will also help plump up your cranberries and finish off cooking your beans.
In a small saute pan toast your pecans over low heat for about 4 minutes. Remove your green beans from the pan and top with your crunchy pecans and serve.
Here is a horrible photo of the green beans all mixed up:
Whatever - you get the idea. I kind of just came up with these based on what was in my cupboards and I really liked the flavor combo of the cranberries and pecans. My husband however was not a fan. I think we discovered that either he doesn't like pecans or he doesn't like green beans unless they are overcooked and drowned in butter. The latter is probably the case. I thought they were successful though.